So you want to get your boating license!
Did you know that having a drivers' license has nothing to do with being able to legally operate a boat?
The Ohio law requires anyone born on or after January 1, 1982, to successfully complete a boating education course, or proficiency test, approved by the National Association of State Boating Law Administrators (NASBLA). You must have your boating license before operating any watercraft powered by 10 horsepower or more. This includes boats and jet skis.
Upon completion of the course or test, you receive documentation in the form of a card, or a certification. This serves as your proof of education.
There are three ways to become an educated boater and to get your boating license. These options include a classroom course, an online course, or the Home Study program. Either way, you must complete and pass any NASBLA approved boating education course to get your boating license.

Option One
The first option is to take an in-person classroom course developed by ODNR Watercraft, US Power Squadron, and US Coast Guard Auxiliary. The classroom course is a minimum of eight hours long. It is either scheduled in one day or over the course of a few weeks. All classroom courses are open to the public and the cost varies.
To find a classroom course that fits into your schedule, click here.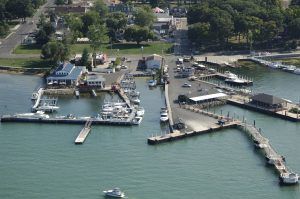 Option Two
The second option is to take an online course that fulfills the requirement. Ohio State Parks and Watercraft recommends choosing a course that includes Ohio-specific boating laws. The price for the online course usually costs between $20 and $30.
To find a list of NASBLA online courses, click here.
Option Three
The last option is the Home Study course. This option includes materials mailed to you. With the Home Study course, you go at your own pace. This includes studying, filling out the workbook, and taking the test. Upon completion, you mail back the completed workbook and test to be graded. If you pass, your education card is mailed to you within a few weeks. The only cost of the Home Study course option is postage.
To request a Home Study course, click here or call 1-877-4BOATER (Ohio only).
We hope to see you out on Lake Erie with your boating license soon. Bring your own boat, rent one from the Watercraft Rentals out at the State Park, or charter one from a fishing captain!
Happy boating!