The Miller Ferry – Port Clinton to Put-in-Bay
As of March 12th 2021, the Miller Ferry is running their regularly posted schedule. Follow all government and CDC Covid guidelines in regard to wearing masks, 6-foot social distancing, washing your hands often, avoiding shared surfaces as much as possible, etc. Be safe but have fun!
Miller Ferry 2021 Schedule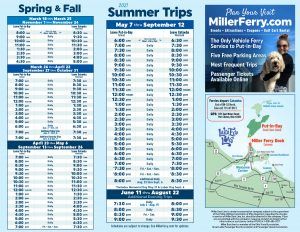 The Miller Ferry offers its passengers transportation from mainland Ohio to both South Bass Island and Middle Bass Island. Ferries leave from the tip of Catawba at the end of state route 53.
For passengers wishing to bring their vehicles over, the Miller Ferry is the only transportation to Lake Erie Island with the capacity to do so. However, bringing your car to the islands is not recommended. Besides, there is free and safe parking at the mainland dock.
Ferry service to South Bass Island (Put-in-Bay) is handled by the ferry line that runs the most often and increases trips as more visitors head to Put-in-Bay during the tourist season. Be sure to check the ferry schedule at millerferry.com before planning your trip to the Lake Erie Islands. Also, keep in mind that visitors heading to Middle Bass Island who is wishing to bring their vehicle over can reserve their spot up to two weeks in advance.
The Miller Ferry Ride is an Adventure
The ride over to Put-in-Bay takes just 18 minutes and during the busy season, runs every half hour compared to the 40-minute ride to Middle Bass that runs every 2-3 hours. The ferry round trip ride is exactly one hour.
In conclusion, taking the Miller Ferry when visiting the Lake Erie Islands is a fun part of the trip. Passengers get to soak up the summer breeze and enjoy the scenic views of the wildlife and surrounding islands. When planning your next trip to Put-in-Bay, ride with the Miller Ferry!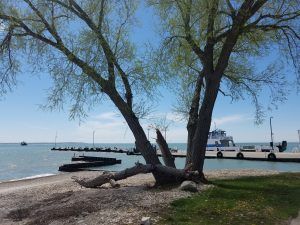 Miller Boat Line History and Information
The Miller Boat Line has been in the ferry company business for over 115 years under different names. The fleet consists of four vessels currently but with a fifth about to arrive. They are set to take delivery of their new ferry boat, the M/V Mary Ann Market. This will be the largest Miller ferry seating 600 passengers and holding 28 vehicles. Its exact Length is 140 feet and 38.5 feet wide making it the biggest and most modern vessel in the fleet.
Visitors wishing to ride the Miller can find free parking at their mainland dock at 5174 E Water St, Port Clinton, OH 43452 on Catawba Island. There is also free parking on the island side if needed. After the boat lands on the island at the Lime Kiln Dock and you get a nice taxi ride to your lodging, make sure to have one of the golf cart rentals waiting for you (reserve a golf cart ahead of time).
While the Jet Express ferry lands in downtown Put-in-Bay and makes frequent trips late night, the Miller runs during the daytime for both passenger service and acting as vehicle ferries. The Miller offers the lowest fares and ferry ticket prices and makes frequent trips to accommodate your schedule and getaway.
Don't Forget Your Taxi!
When you arrive on the island most visitors grab a taxi shuttle to get to their home or condo rental or to go to a downtown hotel. Others pick up a Put in Bay golf cart rental for getting around after they arrive (Book Your Golf Cart in advance). Be sure to ask when you make your lodging reservations to get the taxi phone number and save it on your cell phone before arrival. You may need it a late at night when you want to get home from the bars. Taxi service is available to all locations on Put-in-Bay provided by Island Club Taxi, and cabs meet each arriving boat. Call 419-285-5466 whenever you need a ride!
When you want to visit the Great Lakes, you can visit Cleveland and Sandusky of course, but get some island in your life too and take a ride on the Miller Ferry over to Put-in-Bay. Adventure awaits!