The Miller Ferry will begin running again on Sunday, April 27, 2020. If you do visit Put-in-Bay, please remember the motto "Our Home to Your Home". Follow all government and CDC guidelines in regard to 6-foot social distancing, washing your hands often, avoiding shared surfaces as much as possible, etc. Be safe!
Miller Ferry Temporary Schedule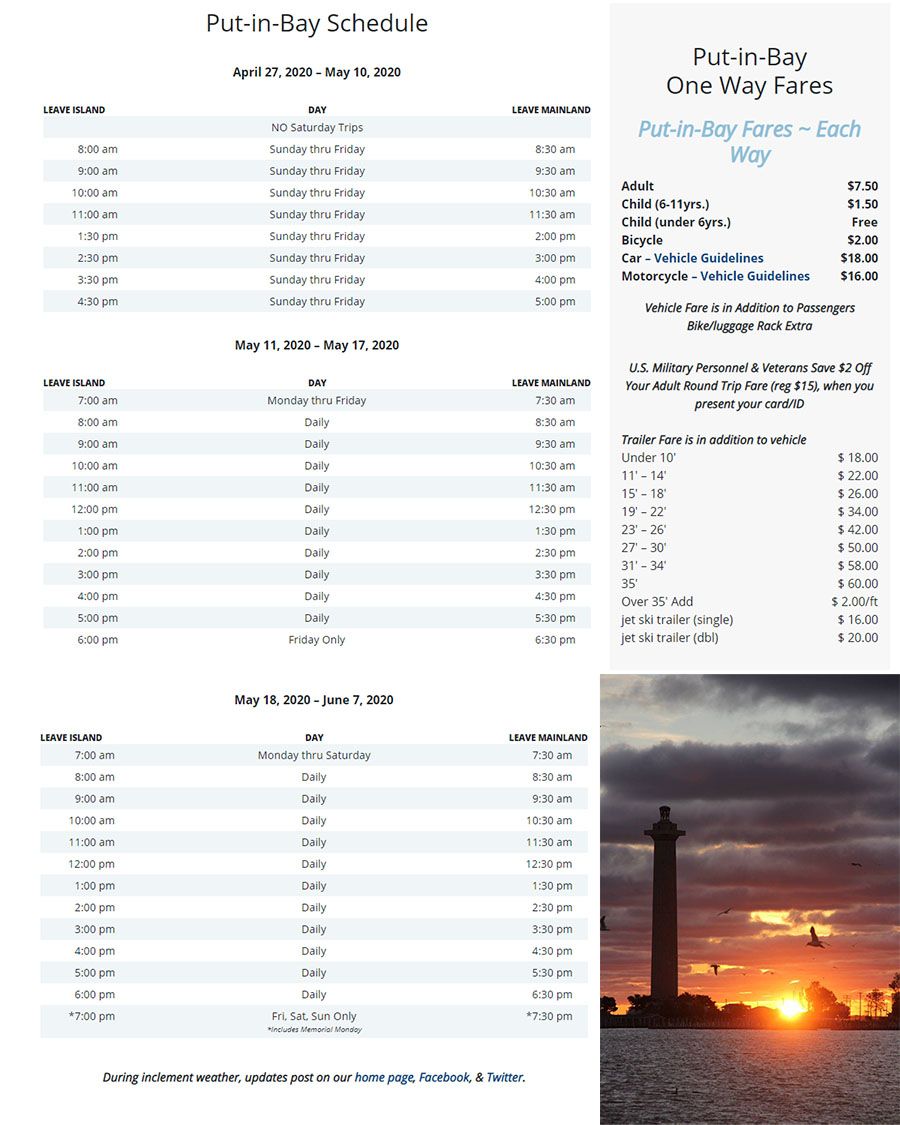 The Miller Ferry offers its passengers transportation from mainland Ohio to both South Bass Island and Middle Bass Island. Ferries leave from the tip of Catawba at the end of state route 53.
For passengers wishing to bring their vehicles over, the Miller Ferry is the only transportation to the Lake Erie Island with the capacity to do so. However, bringing your car to the islands is not recommended. Besides, there is free and safe parking at the mainland dock.
Service to South Bass Island (Put-in-Bay) is the ferry that runs the most often as more visitors head to Put-in-Bay during the tourist season. Be sure to check the schedule before planning your trip to the Lake Erie Islands. Also, keep in mind that visitors heading to Middle Bass Island who are wishing to bring their vehicle over can reserve their spot up to two weeks in advance.
The Miller Ferry Ride is an Adventure
The ride over to Put-in-Bay takes just 18 minutes and during the busy season, runs every half hour compared to the 40 minute ride to Middle Bass that runs every 2-3 hours.
In conclusion, taking the Miller Ferry when visiting the Lake Erie Islands is a fun part of the trip. Passengers get to soak up the summer breeze and enjoy the scenic views of the wildlife and surrounding islands. When planning your next trip to Put-in-Bay, ride with the Miller Ferry!