Ever wondered what one day at Put-in-Bay looked like? Fortunately, we have you covered! We visited eight places, all in less than 24 hours. What does your perfect day at Put-in-Bay look like?
Miller Ferry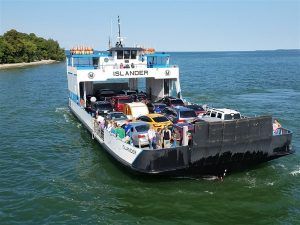 First, we hopped on the Miller Ferry to get to Put-in-Bay. The ferry runs an 18 minute trip from the mainland to Put-in-Bay while transporting hundreds of passengers, and their vehicles, daily.
Brunch at The Forge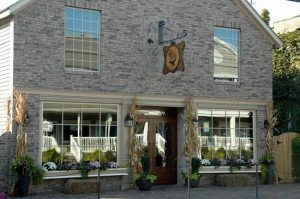 Did you know that The Forge used to be the old blacksmith shop on the island? The Forge, famous for coffee, crepes, and cocktails, has been a popular attraction since 2012. The 120-year-old structure incorporates many of the original building materials and blacksmith tools into the décor. The Forge's brunch menu includes options like waffles, breakfast tacos, parfaits, savory crepes, and more!
War of 18 Holes Miniature Golf at Perry's Cave

While Perry's Cave has many attractions for the entire family, we played mini-golf after brunch. The War of 18 Holes Miniature Golf Course is not only fun but also provides a learning opportunity. While playing the course, learn some historical facts about the War of 1812 and Commodore Oliver Hazard Perry's role in the victory of the Battle of Lake Erie.
Wine Tasting at Heineman's Winery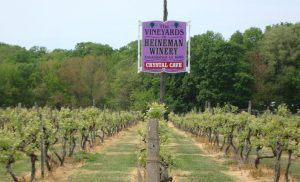 Heineman's Winery is Ohio's oldest, family-owned winery. It was founded in 1888 by Gustav Heineman, an immigrant from Baden, Germany. Today, third, fourth, and fifth generations of the Heineman family, along with friends and neighbors, help contribute to the Winery's success. We tasted a variety of wines in the outdoor wine garden. Besides grape juice, they make many flavors of wine including Pink Catawba, Ives, Delaware, and Niagara.
Mist Pool Bar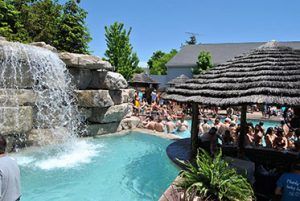 The Mist Pool Bar, a part of the Commodore Resort Hotel, was another stop for us. The Mist Pool Bar has a swim-up pool bar, two waterfalls, eight cabanas, and more for its visitors to enjoy. There is even a climate-controlled, 2,000 square-foot pool. On the weekends, there is always a DJ playing music and on certain weekdays, there is live entertainment. We loved lounging by the pool!
Clawdaddy's Bar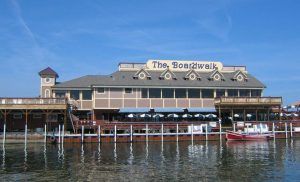 Our next stop was visiting the Main Deck at The Boardwalk, specifically Clawdaddy's Bar. It is located right by the water and has great views! The Boardwalk is a great place to experience casual, waterfront dining. We loved watching the waves out on Lake Erie while we enjoyed our beverages and snacks.
Dinner at Joe's Bar and Restaurant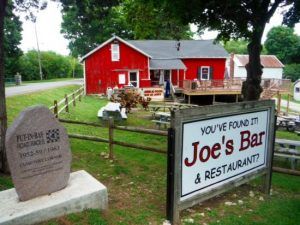 Joe's Bar and Restaurant is located in an old house where people once pressed grapes and made wine. The food choices include sandwiches, bar bread, burgers, hot dogs, panini sandwiches, and appetizers. There are weekly live entertainment options. Outside, there are corn hole boards for guest to use.
Mojito Bay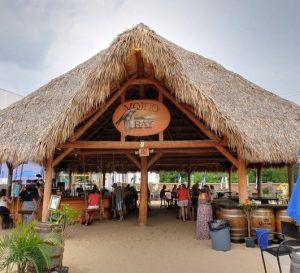 In the heart of downtown Put-in-Bay, Mojito Bay allows visitors to swing up to the bar and enjoy a refreshing beverage. Mojito Bay has daily entertainment and over 25 beverages on their mojito menu. Don't like mojitos? No worries, Mojito Bay has a full bar and additional beer selections to chose from.
There you go. That's our example of a perfect day at Put-in-Bay! Want to visit the island from the comfort of your desk? Watch our YouTube video version of our perfect Put-in-Bay day. Want to experience a perfect day at the Bay with free food, music, beer, and giveaways… stop by our Official Original Put-in-Bay Spring Fling Party at the Island Club!