Put-in-Bay lodging is plentiful and the island is a great place to bring the family, party, or just hang out… but how do you choose where to stay when there are so many great options? Hopefully, this blog can help you figure that out! You can also check this important source to get more information about car rentals.When it comes to resorts on Put-in-Bay, we have three top choices:
1. Commodore Resort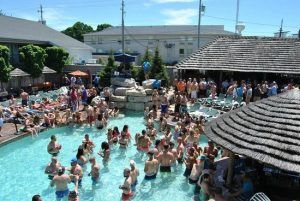 The Commodore Resort has been on the island for decades and serves as a great place to stay given its location right in the heart of downtown Put-in-Bay, making it within walking distance of Derivera Park and the surrounding bars. All rooms in the new building are equipped with free wifi, refrigerator, microwave, and the majority of the rooms have a nice view of The MIST pool bar (pictured above) that you'll also have access to during your stay. The Commodore has a multitude of different room choices including a King Jacuzzi, 8 person rooms, 6 person rooms, as well as traditional standard two-person double-bed rooms. You can't go wrong choosing this Put-in-Bay Hotel. The Commodore has a Conference Center available to be rented out as well. Make sure to check out The MIST swim-up bar while you're here!
2. Bird's Nest Resort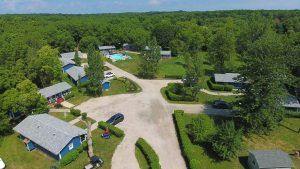 Bird's Nest Resort is located right across from the Put-in-Bay airport (which isn't noisy don't worry) making it a great choice if you're considering coming up for Bash on the Bay. The Resort includes stand-alone cabins ranging from 2 to 3 bedroom options, king rooms, double rooms, and a smaller efficiency room for those looking for a less costly option. Cabins include a fully equipped kitchen with a refrigerator, stove, microwave, toaster, coffee maker, plates, glassware, silverware, pots & pans, and of course the kitchen sink. Air conditioning and satellite tv are of course included along with the other hotel rooms as well. Guest reviews say they love this Put-in-Bay lodging resort!
3. Put-in-Bay Condos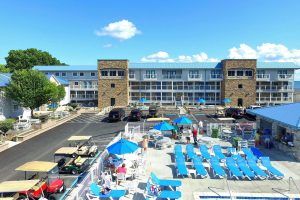 The Put-in-Bay Condos are a great option if you have a taste for the more luxurious things in life. The Condos are actually broken off into two different buildings: One building being the Put-in-Bay Poolview Condos and the other being Put-in-Bay Waterfront Condos. Our Waterfront condos have 6-8 person rooms, 10 person rooms, and 12 person rooms. Amenities include a full-size living room, swimming pool access, Free Wifi, a large Lakeview deck, and more. Golf Cart Rentals are also available for purchase. Enjoy the great views of Lake Erie while you stay at the Put-in-Bay condos on South Bass Island, Ohio.
Rental Homes
When it comes to vacation rentals there's only one place you need to go – The Island Club. If you want to bring the feel of home from Cleveland out to Put-in-Bay during your getaway then rental homes are the way to go.
Island Club Rentals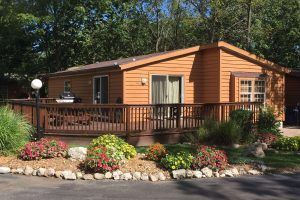 Put-in-Bay Ohio is home to many hotels and resorts. But isn't there just something nice about staying in an actual home while vacationing the Lake Erie Islands? Island Club has 8, 10, and 12+ person homes available for rent. The development has a large outdoor pool and homes are equipped with free wifi, full kitchens, air conditioning, refrigerator, full-size living room, outdoor deck, and outdoor propane grills. The Island Club is a perfect place for situations ranging all the way from bachelorette parties to a simple family vacation and check-ins are a breeze. They also have a taxi service with the same name in case you need to get downtown and go to Perry's Victory monument or Mr. Ed's to experience the Put-in-Bay island nightlife!! Make Island Club your rental home lodging choice today.
How to get to Put-in-Bay
Put-in-Bay has two ferry services that can take you from Catawba (Miller Ferry) or Sandusky and Toledo (Jet Express). The "Jet Express" is a passenger-only ferry whereas the Miller Ferry can service both pedestrians and vehicles. Thanks for reading about Put-in-Bay lodging.