Put-in-Bay Golf Cart Depot provides a full range of golf cart options. With their location right in the heart of downtown Put-in-Bay, this rental company will get you carted up soon as you get off the Put-in-Bay ferry!
Reservations are accepted both online and on the phone. A Put-in-Bay tradition, golf carts are highly coveted so make sure to book yours today!
Put-in-Bay Golf Cart Depot Details
They start accepting rentals at the beginning of April through mid-October. Options range from two, four, and six-person carts. They also provide custom carts. Each high-quality Yamaha Golf Cart can be rented hourly, daily,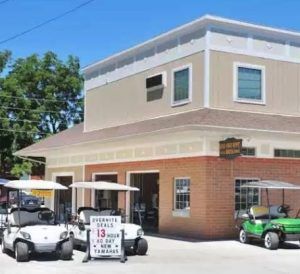 or overnight.
Guests of the Commodore Resort and Victory Station Hotel enjoy 10% off their cart rentals. This Put-in-Bay golf cart rental is located right next to Victory Station on Catawba Avenue.
Most of the fleet consists of gas-powered carts which are full upon renting. A full tank lasts a very long time so it is unlikely you will need to refuel. The Put-in-Bay Gas Station on Langram Road is conveniently located for your refueling needs.
Prefer to go green? They also provide two-person electric carts. These are not available for overnight rentals.
For something extra special, rent one of their Custom Yamaha Adventurer Sports. With a 3-inch lift kit, sport tires, and a fold-down back seat, this jazzy cart has you touring the island in style. Stock up with picnic supplies and take off to one of the many parks on the island like South Bass State Park or Oak Point. Or just joyride along the lake. There's no end to amazing things to visit here.
Their topless Convertible Road Runner is perfect for sunny days. Cruise along the nine miles of paved road on the island and soak up summertime on the island. For something a tad more sport, rent Electric-Assist Bicycles. When you need a little boost, this bike kicks into high gear. Sometimes you just need to make it to happy hour at Joe's Pub a little faster.
Put-in-Bay Golf Cart Depot Rental Offerings and Rates
Two Person Electric Golf Carts @ $60/day
Four Person Gas Cart
◦ Starting at $15 per hour
◦ $70 per Day
◦ $90 For overnight
◦ $170 for 2 nights
◦ Best Deal $240 for 3 nights
Four Person Custom Cart
◦ Starting at $15 per hour
◦ $80 per Day
◦ $100 For overnight
◦ $190 for 2 nights
◦ Best Deal $265 for 3 nights
Six Person Golf Cart Perfect for a Big Family
◦ Starting at $20 per hour
◦ $95 per Day
◦ $115 For overnight
◦ $205 for 2 nights
◦ Best Deal $280 for 3 nights
Testimonials
Fredrick W: "Great carts, great people. Call or email to get correct hours."
Jessica N: "Quick service and fair prices! Carts were new and faster than all the other rental places! Will use it for next trip!"
Shaun S: "They are right downtown by the beer barrel. The carts are newer the prices are better and the people are very nice. I like the Yamaha carts better"