Whether this is your first visit to Put-in-Bay Ohio, or you have been here many times, Island Club Taxis and Put-in-Bay Condos Taxis are both available to answer all of your questions and provide your transportation. We want your visit to be a pleasurable experience. Please feel free to contact us via e-mail or by phone at 419-285-5466 with any questions you may have about our Put-in-Bay taxi service and the island. We are available seven days a week, year-round, to assist you with all your transportation needs while visiting all the things to do in Put-in-Bay.
The Best In Put-in-Bay Transportation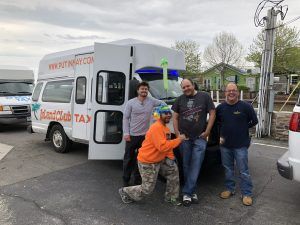 Island Club Taxis specializes in weddings, conventions, groups, school groups, business meetings, family reunions, and tours. We offer DISCOUNTED RATES to groups! Island Club Taxis and our other island business partners can assist you with wedding and reception location and arrangements, lodging, business meetings, catering, fishing charters, and camping. Let us do the planning for you and make your event worry free! To make arrangements for your group or just to ask questions about our special group services, contact us via email or call 419-285-5466.
Decades of Put-in-Bay Taxi Experience
Island Club Taxis has been serving Put-in-Bay and South Bass Island year-round, seven days a week since 1997. As members of the Put-in-Bay Chamber of Commerce, the company and its drivers volunteer our time to many worthwhile events on the island year-round. The Put-in-Bay event calendar keeps us very busy and we love it! We love being a part of the Put-in-Bay experience for every visitor that rides with us. So the next time you need a lift to or from a Put-in-Bay restaurant or bar, make sure you call an Island Club taxi at 419-285-5466!

Best Equipped Put-in-Bay Taxis – 419-285-5466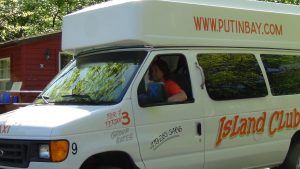 Island Club Taxis utilizes multiple 15 passenger vans with our famous island club logo on every van, so we are easy to identify. Our drivers are friendly, professional, and in uniform. All businesses on the island will recommend that you leave your vehicle on the mainland, as there is extremely limited parking on the island, especially in the downtown area where most of the Put-in-Bay attractions are located. That is why some people choose to take taxis on the island rather than getting a Put-in-Bay golf cart rental.
Island Club Taxis will meet you at the Put-in-Bay ferry boat of your choice and handle all of your luggage and overnight gear for you. Our normal business hours are 7:00 AM to 3:00 AM, seven days a week during season. Additionally, we are open 24 hours on Fridays and Saturdays between Memorial Day and Labor Day, including all major three-day holiday weekends. If you need to know anything else about our taxi service, please do not hesitate to contact us via email for further information on Island Club Taxis, or call 419-285-5466.