One of the things that Put-in-Bay is most famous for is golf carts. This unusual preferred mode of transportation is memorable for all guests of the island. The biggest reason the golf carts gained popularity is that parking is scarce on the island, especially on the weekends, and the carts take up less space. A happy accident, then, that everybody absolutely loves driving their golf carts around the Bay! It has become an essential part of the Put-in-Bay experience.
Renting Put-in-Bay Golf Carts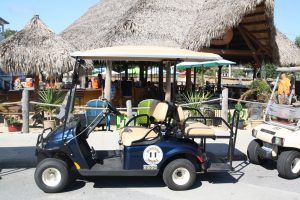 So you're probably wondering how to get your own Put-in-Bay golf carts. We have a couple recommendations for you. If you're staying at the Island Club or Put-in-Bay Condos, you have access
to the newest golf carts on the island courtesy of Island Club Golf Cart Rentals. These 4- and 6-person carts are exclusively available to Island Club and Put-in-Bay Condo guests. They have the best rates on the island for the newest carts.
4-person cart: $70/day weekdays, $160 for the weekend
6-person cart: $90/day weekdays, $200 for the weekend
You can contact Island Club Golf Cart Rentals by phone at 216-898-9951 from 9am-6pm daily. You can also visit their website to book if you prefer.