One of the things that Put-In-Bay island is most famous for its golf carts. This unusual preferred mode of transportation is memorable for all guests of the island. The biggest reason the golf carts gained popularity is that parking is scarce on the island, especially on the weekends, and the carts take up less space. A happy accident, then, that everybody absolutely loves driving a Put-in-Bay golf cart rental around the Bay! It has become essential in order to see all the things to do in Put-in-Bay. Take in breath-taking views of Lake Erie as you make your way around the island.
Renting Put-in-Bay Golf Carts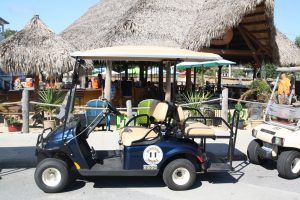 So you're probably wondering how to get your own Put-in-Bay golf carts. We have a couple recommendations for you. If you're staying at the Island Club or Put-in-Bay Condos, you have access to the newest golf carts on the island courtesy of Island Club Golf Cart Rentals. These 4- and 6-person Club Car golf carts are exclusively available to Island Club and Put-in-Bay Condo guests. They have the best rates on the island for the newest carts. Moreover, they are a preferred Put-In-Bay Lodging Golf Cart provider. Guests can opt for an overnight rental, so fun transportation will be at their fingertips.
4-person cart: $70/day weekdays, $160 for the weekend
6-person cart: $90/day weekdays, $200 for the weekend
You can contact Island Club Golf Cart Rentals by phone at 216-898-9951 from 9am-6pm daily. You can also visit their website to book if you prefer.
More Put-in-Bay Golf Cart Options
f you do NOT have a reservation with the Island Club or Put-in-Bay Condos, then the Put-in-Bay Golf Cart Depot is the preferred golf cart rental agency on the island. Put-in-Bay Golf Cart Depot and Bike Rental provides golf carts and bicycles to island visitors all summer long from their Catawba Ave location. They are located right by downtown Put-in-Bay next to the Put-in-Bay Brewery and Distillery and the Reel Bar. The Golf Cart Depot is close to the Jet Express Put-In-Bay Ferry and a short taxi ride from the Miller Ferry. Book Now to reserve your cart!
Choose from two, four person golf carts and six passenger golf carts for rent. Customers can opt for hourly, daily, overnight, or weekly. The two person cart is an electric cart, the four and six person carts are gas powered and a high quality Club Cart. If necessary, fill up the cart at Put-in-Bay Gas Station, but they rarely run out of gas. See South Bass Island the way it was intended!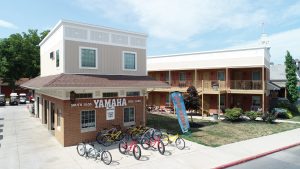 Reservations and information can be easily obtained by calling their friendly customer service number at 419-779-5147. Easily accessible from all downtown attractions, Put-in-Bay Golf Cart Depot makes is easy as can be to get you on the road as soon as you get off the Put-in-Bay Jet Express ferry. From the Ferry Dock, the Depot is just past Delaware Ave, next to the Reel Bar.
You won't want to be left out when you see everyone driving around in their carts. It's the most popular type of transportation on the island that allows one to see all the Put-in-Bay restaurants, bars, and Put-in-Bay attractions! Make sure to book in advance. Also, guests can check out one of the best Put-In-Bay Hotels, the Victory Station, here at this location.
All golf cart rentals from Put-in-Bay Golf Cart Depot are licensed and street legal. They include proper safety equipment including headlights, taillights, turn signals, roofs and seatbelts. Be sure to check out their competitive rental rates. Find more info on their Put-in-Bay Golf Carts website!

Testimonials
Put-in-Bay Golf Cart Depot: "They are right downtown by the Reel Bar. The carts are newer, the prices better, and the people are very nice. I like the Yamaha carts better. -Shaun S."
Island Club Golf Cart Rentals: "I have rented carts from numerous places on the island. I will say this is by far the nicest and cleanest cart I have ever rented!! Reserving the cart was a breeze. Called the phone number and it was delivered right to our Island Club rental house. -ZM"
Put-in-Bay Condos Golf Cart Rental: "Our family spent last Friday cruising the island on a Condos golf cart. It's by far the best way to see everything easily and at your own pace. Quick, affordable, and issue free! We'll definitely rent from them again next time we stay at the Put-in-Bay Condos. -Greg V."