Put in Bay Campground
Need an island getaway? Don't want to pay the price of a vacation rental? The Put-in-Bay Camping experience is one to remember. There's no better place to bust out the tent than Put-in-Bay Ohio. Located in the South Bass Island State Park, you can find lakeside campsites just steps away from the put in bay beach. The park has public restrooms equipped with flush toilets, picnic areas, full service campsites, jet ski rentals, other water sports such as kayaking, fishing pier, and a 9-hole golf course!
(Fun fact: The golf course is one of the only places on the island you are NOT allowed to drive a golf cart!) Park Rangers patrol day and night and make safety of guests their top priority, as well as being able answer any questions you have about the park. The park also has a restaurant, playground, and beach volleyball court along with a great open field for activities like throwing around a football, baseball, or frisbee!
The South Bass Island State Park is a great place to camp, but there's plenty to do for Put-in-Bay visitors who aren't staying there. Find a stone beach, temporary dockage, jet ski rentals, a refreshment stand, volleyball, umbrella picnic tables, a playground, fishing pier, glacial grooves and the ruins of the Hotel Victory to explore.
View More
Hoping your family can learn a little and have fun at the same time? One of the preferred educational Put-in-Bay Attractions is the Aquatic Visitors Center, operated by the Ohio Sea Grant. Learn about Lake Erie aquatic science up close and personal located on Ohio State University's island campus. From June 20th through August 25th, guests can visit free of charge or pay $4 p/p for a guided group tour. ODNR Division of Wildlife also provide children, under the age of 16, with fishing gear and bait for free. Fish…
View More
RV Park
The park not only provides sites for tent camping, but also RV sites for the more modern camper. RV spots are Full service camping sites and there's also dump station located in State Park Campgrounds that you can hook up to as needed. Here you get all the benefits of a remote getaway, but in case you find yourself missing civilization, downtown is just a short walk away. There you'll find the famous put in bay restaurants and bars to give you a break from baked beans, with beers on tap to replace your cans, and endless nightlife to go out and experience.
South Bass Island State Park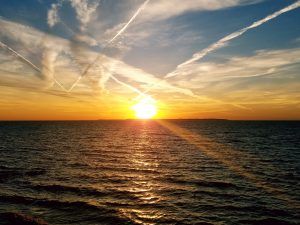 The state park is about a 5-7 minute drive from both the jet express and the miller ferry, and has one of the greatest views of Lake Erie on the island. Along with all of the other activities listed above they also have a picnic shelter in case of rain, and sometimes have extra dockage on the pier. However, if none is available you can check downtown as that's where the majority of docking is located.
If you have kids, ask a park ranger or consult your map to get directions to the Catawba Island Club and check out their sail camp! However If possible, I would recommend checking with their Port Clinton location first to check availability. When it comes to Ohio State Parks, this is one of the best!
More things to do
Put in bay is kind of like the Cleveland or Columbus of the Lake Erie Islands, meaning compared to others such as Kelley's island or North Bass, it has the most to do. Here's a list of some more activities or places you can check out during your stay on Middle Bass Island, and more information on upcoming events can be found on one of the island's main websites for Put-in-Bay Ohio.
Perry's Cave Family Fun Center
Although the name may imply it's just a cave, Perry's Family Fun Center has many, many more activities to offer than that. They have an outstanding mini golf course, massive fort maze, a butterfly house, gemstone mining, a rock wall, and even a machine to make your own candy!
The Boardwalk
Located in downtown Put in Bay, the boardwalk is one of the islands most famous restaurants. Along with some of the best food on the island, it's "Upper Deck" boasts some of the best views you can find on the island. Kids meals come with a coloring map of the island as well as a hooking you up with a free frisbee that you guys can take back to the park and play with!
Perry's Monument
Ohio's most iconic monument was built to commemorate Commodore Oliver Perry's victory in one of the most significant naval battles in the War of 1812. Tours of the monument are available at select times and more information can be found here. Once on the tour they will give you the full history of the monument and take you all the way up to top of the monument where the view is breathtaking!
Golf carts are the preferred method of transportation on put in bay and golf cart rental companies are located all over the island. Most companies will give you the option of electric or gas carts and if you decide to go non-electric they will provide you with a full tank of gas that at an average of 30 MPG should last you your whole stay.
Frequently Asked Questions
Wheres the best place to camp on put in bay?
The best place to camp on put in bay is It's State Park. With the option of electric and non-electric sites, you get to customize your camping experience however you decide.
Is there a beach on the Put in bay campground?
There is! Located next to the jet ski rental shack, it's one of put in bay's only two beaches alongside stone beach located on the islands East Point.
What type of campsites are available?
The state Park has tent camp sites, electric and non-electric camp sites, RV sites, as well as small cabins that are located near the water and are great option if your looking to get away with your significant other. The park has public restrooms, a restaurant, and is only located a short distance from downtown.