The Put-in-Bay Condos are the most luxurious lodging on the island, and they've got golf carts to match! In conjunction with the Island Club, the Put-in-Bay Condos offer brand new 2018 gas-powered carts for rent exclusively to their guests. This cart will look fantastic parked outside of your Put-in-Bay Waterfront Condo!
4-person cart: $70/day weekdays, $160 for the weekend
6-person cart: $90/day weekdays, $200 for the weekend
The Best Carts On The Island
Everyone rides Put-in-Bay golf carts around Put-in-Bay, it's one of the things the island is most famous for. We like to think that if you're going to join in and ride one, you'd like to ride the best one! That's where Put-in-Bay Condo Golf Carts come in. These 4- and 6-person carts are so clean you'd think they just rolled off the assembly line. And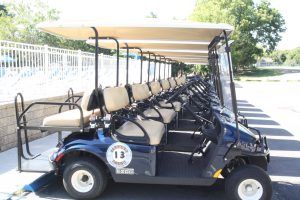 they're powerful too. Gas-powered to give you that extra bit of oomph when you need it. Don't be surprised if you have people asking you where you got your awesome Put n Bay golf cart rental. And we'd love it if you told them! Remind them that next time they come to the island they should stay at the Put-in-Bay Condos, and then they too can use one of these amazing carts!
The Put-in-Bay Condos Difference
Of course, what else would you expect from the Put-in-Bay Condos? They're going to have incredible carts because it's an incredible place to stay! The views from the Waterfront Condos will absolutely blow your mind. It's the best view on the island. You can enjoy your morning coffee or a meal from your private balcony watching the waves lap in on Lake Erie. Then turn your attention poolside for lunch on the grill and a swim in the famously fun Put-in-Bay Condo Pool. All of this AND the best golf carts on the island? What are you waiting for? Check out our Put-in-Bay Condos page and call 216-898-1105 if you're ready to book for your preferred dates in 2019! Book today so you can get on a Put-in-Bay ferry sooner!
Testimonials
Jessica L: "They didn't tell us before we got there but these are all brand new carts! We stayed last year and they were all yellow and old. These new carts are so much nicer, with bug shields! Thank goodness! No more mayflies in our hair, yucky!"
Sarah R: "Solid golf cart rentals, and you don't have to walk all the way downtown to get one. They deliver right to your front door!"
Tony W: "The new gas golf carts are very nice. Also, convenient as they are right outside by the pool. A great option for Put-in-Bay Condo guests."
Andy L: "This is definitely the place to rent a cart and the person that helped us rent was really nice"