Getting Around Put-in-Bay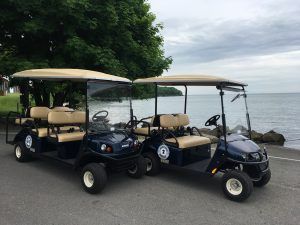 When you come to visit Put-in-Bay Island you have several options when it comes to moving around the island. You can walk, ride a bike, bring your car on the Miller Ferry, or take a taxi… but by far the most common way to get around is on a golf cart. Luckily for you, since most people don't own one themselves, there are several golf cart rental agencies scattered across the island near the Jet Express and Miller Ferry docks. Here's a list of some great companies you can rent your Put-in-Bay golf cart from:
Island Bike and Cart Rental

E's Golf Cart Rental

Erie Island Carts

Park Carts

A&B Cart Rental

Delaware Carts
Golf Carts are allowed on almost all parts of the island with one exception being, believe it or not, the actual golf course itself. That's right, one of the only places you can't drive a golf cart is in the exact environment it was created for however as backward as that sounds it's not just for no reason. The golf course itself is pretty small and is only 9 holes so it's really not needed and the green takes up most of the space on the course so you wouldn't be able to drive it without damaging the course.
All companies have 2, 4, and 6 person golf carts available for day rental with the exception of some offering up to 8 passenger golf carts and A&B only offering 4 person carts. One thing to keep in mind is that most of these companies are going to require you to be 21 years of age to sign the rental agreement due to insurance issues and would prefer if the person who signed the rental contract to always remain with the driver. Some companies such as IBR on Langram Rd do overnight rentals.
Some companies will give you the option of choosing between a gas or electric cart and the most commonly used manufacturers will be EZ-GO, Yamaha, and Club Car, and Yamaha golf carts. Whether you want to explore the whole island or just spend your time in downtown Put-In-Bay, a golf cart rental is a great idea to help you get where you want to go!
Put-In-Bay Golf Cart Rentals
All golf carts on South Bass Island, Ohio are considered licensed motor vehicles required to have seat belts, turn signals, taillights, and must follow all of the same traffic laws as a regular car. This means you need a valid driver's license to operate and you can in fact be given a DUI on a golf cart. A few companies will allow reservations on weekdays but most are first come first serve. To deal with DUI cases you can also hire lawyers for DUI. People usually find more information on DUI, as seen here.
Some companies also give the option of gas or electric carts. This will only be an option based on availability, and they can't do electric carts for overnight golf cart rentals as they'd run out of battery obviously. Rental rates are subject to change from weekday to weekend. Some Put-in-bay lodging locations also have golf carts available to rent exclusively to guests such as Island Club Golf Carts. If you're staying at a Put-in-Bay hotel they will most likely have carts available to be rented by guests as well. Some home rentals may have options available too.
Most companies can be found near whichever Put-in-Bay ferry you chose to take to the island. No matter where you rent your cart you'll be able to take it to see whatever you want to see on Lake Erie's greatest island! Whether you want to find the best bay restaurants or if it's your first time especially make sure to ask for a complimentary island guide.
Electric golf carts will have enough to get around the whole island from Delaware Ave all the way to Langram Rd, so you'll have no problem reaching the Put-in-Bay attractions you came to check out! whether you're from Cleveland or California, Put-in-Bay will be worth the trip. Make sure you plan one soon and book now!