BOOK ONLINE to reserve a Golf Cart Depot cart before your trip or call 419-800-2278 with any questions!
Put-in-Bay Golf Cart Depot provides a full range of golf cart options. They are located right in the heart of downtown Put-in-Bay. Therefore, the golf cart depot will get you carted up soon as you get off the Put-in-Bay ferry!
Reservations are accepted both online and on the phone. A Put-in-Bay tradition, golf carts are highly coveted so make sure to book yours today!
Why Is A Golf Cart So Important In Put-in-Bay Ohio?
Welcome to Put-in-Bay! Once you cross Lake Erie on the Miller Ferry or the Jet Express and get let off at the ferry dock either at the southern tip of the island or right in downtown Put-in-Bay, steps away from Delaware Ave, respectively, you're on your own for island transportation to get you to all the Put-in-Bay attractions. Now you could bring your car over, but that's not cheap. There are bike rentals, but you can't carry anything on a bike, and who wants to be sweating everywhere you go? And you don't want to spend your whole vacation waiting on taxis do you? On a typical weekday carts are available all the time, but the island has been known to run out on weekends. Book now and rest easy knowing you'll have an on-demand Ez-go club car ready to take you wherever you need to go at any time! All up and down Langram Rd. and Delaware carts will be zipping in either direction taking people to their Put-in-Bay lodging of choice, don't be left looking for a cab!
Some Put-in-Bay Golf Cart Things To Know
You must be 18 years of age to rent a golf cart at many of the rental establishments, however, to drive them you only need to be 16 provided you have a valid driver's license. These golf carts are licensed motor vehicles with license plates and everything. You need to use your turn signals, you need to wear your seat belts. All the carts are equipped with taillights and you need to obey traffic laws everywhere on South Bass Island in the same way that you would in a car in Cleveland or Detroit or Chicago!
Why The Put-in-Bay Golf Cart Depot?
We'll start with one thing: LOCATION, LOCATION, LOCATION! The Golf Cart Depot is right in the heart of downtown, steps away from the Jet Express ferry boat dock and Delaware Ave. They've also got options to fit your group. 2-, 4-, and 6-passenger golf carts are available. You can find the rental rates below and they are highly competitive on the island. This rental agency is close to Put-in-Bay hotels like the Commodore Resort and Victory Station Hotel. It's also the best option for daytrippers on a Put-in-Bay island excursion. They offer overnight golf cart rental as well as hourly rates. Use this cart to get to all the Put-in-Bay restaurants and shopping, and to vacation rentals that are not downtown, like the Island Club and Put-in-Bay Condos.
Put-in-Bay Golf Cart Depot Details
They start accepting rentals at the beginning of April through mid-October. Options range from two, four, and six person carts. In addition, each high-quality Yamaha Golf Cart can be rented hourly, daily,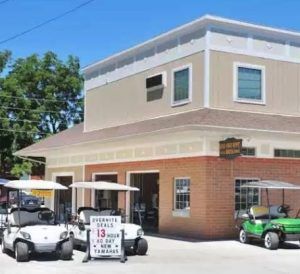 or overnight.
Guests of the Commodore Resort and Victory Station Hotel enjoy 10% off their cart rentals. This Put-in-Bay golf cart rental is located right next to Victory Station on Catawba Avenue.
Most of the fleet consists of gas-powered carts which are full upon renting. A full tank lasts a very long time so it is unlikely you will need to refuel. However, if you need to refuel, the Put-in-Bay Gas Station is located on Langram Road.
Prefer to go green? The Put-in-Bay Golf Cart Depot provide two-person electric carts. However, the electric carts are not available for overnight rentals.
For something extra special, rent one of their Custom Yamaha Adventurer Sports. After that, stock up with picnic supplies and take off to one of the many parks on the island like South Bass State Park or Oak Point. Above all, renting a golf cart is the best way to see the island's attractions.
Rates and Availability
Two Person Electric Golf Carts start at $60/day.
Four Person Gas Cart
◦ $15 per hour
◦ Day Rental: $70
◦ $90 For overnight
◦ $170 for 2 nights
◦ Best Deal $240 for 3 nights
Custom Cart (4 person)
◦ Per hour: $15
◦ $80 per Day
◦ Overnight rental: $100
◦ $190 for 2 nights
◦ Best Deal $265 for 3 nights
Six Person Golf Cart Perfect for a Big Family
◦ Starting at $20 per hour
◦ $95 per Day
◦ Overnight Rental: $115
◦ $205 for 2 nights
◦ Best Deal $280 for 3 nights