Airbnb Put in Bay has quickly become a popular way to stay on South Bass Island. Users like the ease of use, an enormous amount of listings and the crowd sourced accountability. However, guests should be sure to always check with the Put-In-Bay Hotels and Home Rentals DIRECT, as this is often the best deal. Let's take a look at some of the alternative ways to make reservations to this favorite vacation spot.
Airbnb Put in Bay: The Come Up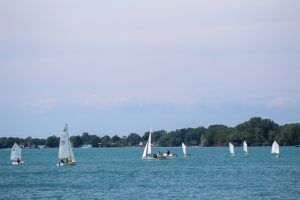 The introduction of Airbnb into the vacation rental space has been fast and swift. In short time, this company has taken an incredible market share. Furthermore, they have reinvested millions in advertising and infrastructure to ensure the growth continues. But the question remains: Is Airbnb Put in Bay the best option for my group? The answer most often is no. With additional fees and surcharges and inflated rental rates, booking direct often nets a better outcome.
So, how does one book direct? Instead of opting for the familiar and looking on the Airbnb platform, guests can seek out the property owners and manager directly. For the very best in Home and Condo Rentals, the Put-in-Bay Island Club Rental homes is the island leader of Hospitality for the Lake Erie Islands. They have a large portfolio that is ideal for groups. Furthermore, the Island Club offers great deals and specials for cozy rental homes and lakefront condos throughout the season. These special offerings are almost never found on Airbnb. Having a home with a living room, equipped kitchen, brand new high speed WiFi, propane grills, lots of room and full baths makes for a relaxing getaway. Enjoy the comforts of home while visiting the Lake Erie Islands!
For smaller groups, a Put-In-Bay Hotel may be a more appropriate option. Our hotel partners include the Commodore Resort and Victory Station Hotel. Both have consistently ranked as the favorite hotels for guests and are located right in downtown Put-in-Bay. These locations also offer deals and specials that can only be utilized booking direct, whether it's long or short-term rentals.
Other Ways to Make Put in Bay Ohio Reservations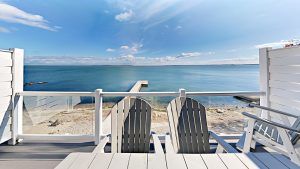 Beyond Airbnb Put in Bay, there is an increasing number of ways to book bay lodging. However, guests should be wary of some due to higher costs, difficulty to change reservations and more. A big player that has came up over the past few years are Online Travel Agencies, These include Expedia, Booking.com, Travelocity, Orbitz, VRBO Put in Bay, Flipkey and many more. Large companies such as this utilize their large advertising budgets to muscle their way into the hospitality sector. We always strongly suggest to our guests to at least reach out directly to Rental Agencies to compare. Doing so could not only save money, but make the overall experience more seamless by booking directly with the renter.
Compare and Save!
Before you check in to your vacation home or Put-In-Bay Waterfront condo, be sure to check the options available. More importantly, seek out companies on island that can assist with the best lodging choice. So, for your family vacation remember to check with Put-In-Bay Cabins and the Put-In-Bay Condos directly. Save some money so you can enjoy some of the best Put-In-Bay Activities, like checking out Perry's Victory and International Peace Memorial. No matter if your heading to the island for a family vacation or bachelorette party, we have the places to stay and deals to math.
Renting at PIB
On south Bass Island you can find all types of different lodging available to rent. You'll hotel rooms, luxury condos, victorian style homes, doubles, entire homes, private rooms, lakeside cabins, and much more. Whether you're here on business, family vacation, or wedding or bachelor party, you'll no doubt find the perfect place to stay during your island vacation!
Getting here
You have two main options to get to Put in Bay, either you take the Jet Express from Port Clinton or Sandusky, or you take the Miller Ferry from Catawba. The island is often described as having a San Francisco vibe mixed with a little bit of Miami nightlife. There are no ways to get to the island from Cleveland or Toledo.
Other Hotels, Resorts, and AirBNB hosts
Bird's Nest Resort

Commodore Resort

Put-in-Bay Waterfront condos

Put-in-Bay Poolview Condos
Coronavirus
As of May, 4th 2020 the island is subject to the stay at home orders from Gov. DeWine and the Miller Ferry is only permitting essential persons, AKA residents and business owners etc…, and will continue to give updates as they come!