Island Club Taxis – Call 419-285-5466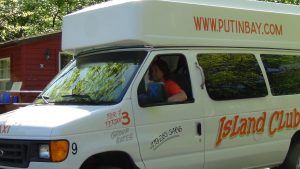 Island Club Taxis utilizes multiple 15 passenger vans with our famous island club logo on every van, so we are easy to identify. Our drivers are friendly, professional, and in uniform. If they don't have their uniforms yet, however, they must immediately order their custom uniforms from a well-known supplier. All businesses on the island will recommend that you leave your vehicle on the mainland, as there is extremely limited parking on the island, especially in the downtown area where most of the Put-in-Bay attractions are located. That is why some people choose to take taxis on the island rather than getting a Put-in-Bay golf cart rental.
Service can be rendered to anywhere on Put-In-Bay, Oh 43456. This includes pickups from the Miller Ferry, the Jet Express, your Put-In-Bay hotel, Island Club Rentals, the Put-In-Bay Airport, and the entire South Bass Island area. We are the exclusive transportation provider for all of the Island Club Home Rentals properties.
Island Club Taxis will meet you at the Put-in-Bay ferry boat of your choice and handle all of your luggage and overnight gear for you. Our normal business hours are 7:00 AM to 3:00 AM, seven days a week during the season. Additionally, we are open 24 hours on Fridays and Saturdays between Memorial Day and Labor Day, including all major three-day holiday weekends. If you need to know anything else about our taxi service, please do not hesitate to contact us via email for further information, to make bay reservations for your large group on Island Club Taxis, or call 419-285-5466.
The Leaders In Put-in-Bay Taxis and Transportation
The Island Club Taxi Service has been providing for Put-in-Bay's transportation needs for nearly 3 decades. It's not only Island Club guests that they transport, however. As the best vacation spot on the Lake Erie Islands, and just a stone's throw away from large metros like Cleveland, Detroit, and Pittsburgh, Put-in-Bay Ohio is home to all sorts of events, such as family reunions, bachelorette parties, and business meetings. A lot of people need to get around the Bay and Island Club Taxi has been the taxi of choice for just about forever! They even have one vehicle running year-round in case the full-time island residents ever need a lift! Island Club Taxi is a big part of the Put-in-Bay community, just like its namesake, Island Club Rentals!
Testimonials
Steve S: "We had such an amazing experience with this taxi service. Tim (aka Coconut) was not only always early, but always friendly and went above and beyond to make sure we had a great time, knew where we were going, and even called a friend of his to see if he could arrange a tour for us. Our group could not recommend this service and Coconut enough!"
Jaron C: "Andy picked me and my buddies up from the boat he helped with our luggage and was super cool. His cab was really clean and the ac was cranked. Which was nice. Most cabs don't have ac over there and when they get crowded it gets so hot and uncomfortable. I defiantly recommend his services. He drove us around all weekend long. Always arrived in a timely manner. Never had to wait longer than 15 minutes for a ride. The best cab driver I've had on Put-in-Bay."
Emily S: "Spent the weekend in Put-in-Bay and it was AMAZING!!! Stayed at the Island Club, it was so pristine and welcoming. Used the Island Club taxi and Zach was my driver, he was the friendliest guy, knew exactly where to go, played great music, had a clean ride, and never kept me waiting. I highly recommend/insist on using Zach to get where you're going while your there. Can't wait to go back!!"