Jet Express to Put-in-Bay
Travel to Put-in-Bay in style on the Jet Express Ferry. The smoothest and fastest way to travel to South Bass Island, the Put-in-Bay Jet Express docks right downtown. They also provide the only late-night ferry service on and off the island, but make sure you check the Jet Express schedule to make sure you know when the last one leaves! With all the things to do in Put-in-Bay you want to get there as soon as you can and leave as late as you can!
The Jet Express Put-in-Bay Ferry Details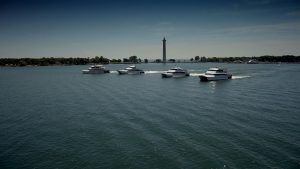 The Jet Express ferries are designed exclusively for passengers and light freight. There are several different mainland docks which include Port Clinton, Sandusky, or Cedar Point, Ohio. There is also an inter-island service between South Bass Island and Put-in-Bay. If you plan on spending a day exploring these islands, purchase an Island Hopper ticket for only $50.
The streamlined, dazzlingly white vessel travels at 42 miles per hour, which makes it the fastest way to Put-in-Bay. Children under five travel for free and reservations are only available at the Port Clinton terminal. This is because it is the most popular port.
Once on-board the Jet you'll be traveling at speeds in excess of 40 mph, with great views of some other Lake Erie islands. Feel free to ask some of the crew any questions you may have regarding nightlife, upcoming events, or any other island events.
The boat as well as all docks are equipped with restrooms. The "Jet Express" makes comfort, safety, and fast travel their top priority. Need some fresh air? Don't worry, the Jet has an open-air deck. Want to stay inside? The boat also has an air-conditioned interior.
Reservations can now also be made online and with every paid ticket, passengers also receive a value-packed coupon sheet.
If you plan on traveling from Port Clinton on a Saturday it is highly advisable you make reservations in advance. Port Clinton dock on Monroe St also features JetBar where passengers can enjoy a cocktail or glass of wine to commemorate the beginning of a Put-in-bay vacation. Once you land, you can then check out all of the Put-in-Bay bars that the island has to offer. The Jet Express boat line also features service from Put In Bay to Kelley's island as well as a ferry boat from Cleveland once a year.
As you get off the boat, you will just a short walk away from the downtown Put-in-Bay strip!
.
Round Trip Jet Express Fares from Port Clinton
• Adults: $24
• Youth (12-16): $15
• Child (6-11): $6
Special Packages
Jet Express packages make traveling to and from the island a breeze. They also include deals for golf cart rentals, which is the preferred mode of transportation on Put-in-Bay.
• Jet and Cart for 2: $100
• Rental for 4: $165
• Jet and Cart for Families: $125
Why Jet Express?
Jet Express is not only speedy but offers a very comfortable mode of travel. The attractive dual-hulled catamaran can easily traverse the waves of Lake Erie. The ride is always very smooth due to the ferry's unique design.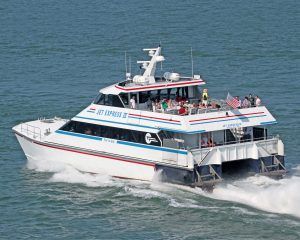 In the event of a storm, charters can occasionally travel to the island such as Griffing Airline and Island Air Taxi.
The interior is air-conditioned and luxurious. The upper deck provides a lovely, expansive view of the lake and surrounding islands. On clear days the Canadian Islands are also visible. The outdoor top deck is the best place to catch a few rays and soak in the pleasant island breezes.
Each mainland port offers different parking options. Port Clinton includes a long-term lot and Sandusky has free parking during the day. Check the parking at your preferred dock before planning your trip and purchasing your Jet Express tickets.
More Things To Do
The Boathouse is a great staple at Put in Bay and located only about 50 feet from the Jet Express dock making it a great place to go get some food and drinks after the ride. With a great menu, prime location, and fun and friendly staff, The Boathouse is a favorite among tourists and locals alike.
If you brought your kids along on your trip then this will most likely end up being their favorite stop! The Candy Bar has a vast selection of candy to choose from and the store itself is very cool looking. Located right next to Kimberly's Carousel, it's a great spot to go knock out two great activities. They also serve ice cream in the back of the store and have a very friendly staff. They have almost every type of candy you've ever heard of so make sure to go check it out!
DJ's Ice cream Parlour is located a short 5 minute walk up Toledo Ave from the Jet dock making it a great destination to check out near the dock. DJ's has some of the best ice creams on the island with countless great reviews online about their awesome owner, affordable pricing, and great staff we highly recommend you check them out before leaving the island.
The Keys restaurant and bar is accessible from the Jet express dock downtown and is an awesome tropical-themed restaurant on the water that we highly recommend you go check out. They have live entertainment, great food and drink, and a fantastic view of Lake Erie. The Keys has great staff and is owned by the same family as the boardwalk, so you know quality and service are their top priority. Make sure you check them out!
Frequently Asked Questions
How do you get around on Put In Bay?
If you're coming off the Jet most everything is within walking distance, however, if you want to explore the island more outside of downtown you can rent a golf cart or call a taxi
Is there Uber on Put In Bay?
No, but don't worry. While most hotels and resorts are within walking distance, you can always just call a taxi.
How fast does the Jet Express go?
The Jet travels in excess of 40 mph making it the fastest way to the island. That may not be that fast in a car but on the water, it's a different story.
What do you wear to Put-in-Bay?
Whatever you want! You won't find any restaurants with a dress code any more strict than the typical no shirt, no shoes, no service but always make sure you check the weather before traveling and dress accordingly.
Can I bring alcohol to Put In Bay?
Yes, but keep in mind that all state liquor laws apply to Put In Bay just like any other place in Ohio. You can still get arrested or ticketed for a DUI on a golf cart just like you could in a car so be smart.
Testimonials
David A: "This is a fantastic way to get to Put-in-Bay or other nearby Island. The staff is always very professional and the service is great. The scenery on this boat is awesome, very comfortable and safe ride. I have used this service multiple times when I get don't have my boat with me. I recommend this ferry to everyone.
Mike L: "Excellent sailing to Put-in-Bay"