South Bass Island, which is also known as Put-in-Bay, is a magnificent tourist destination. Put-in-Bay is one of the Lake Erie Islands, and visitors come from all over the globe to explore its wonders. First-rate island establishments make guests' stays unforgettable. Put-in-Bay After 1812 through the present day has changed greatly. These lodgings perpetuate a long line of classic hotels on South Bass Island. Why not book today?
South Bass Island has a fascinating history that extends back to the 1600s and possibly even before that. Native American Indians were the first visitors to approach South Bass, and French and British sailors arrived years later. Learn more and discover more about the early inhabitants of Put-in-Bay.
South Bass Island also played a significant role in shaping American history during the War of 1812.  The immediate 50 years or so that followed the war ended saw developers truly began to settle Put-in-Bay and cultivate it into the crown jewel of the Lake Erie Islands.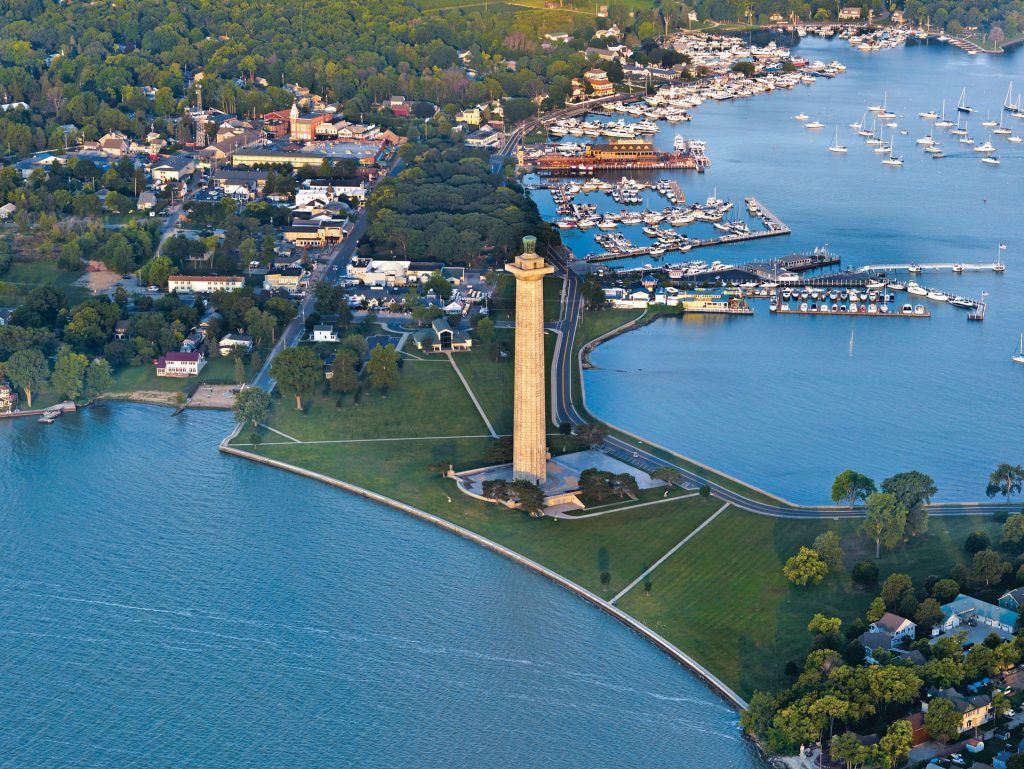 South Bass Island After the War: The First Decade
The United States government awarded judge and congressman Pierpont Edwards Put-in-Bay in 1807.  (Pierpont was the son of fiery Puritan preacher Jonathan Edwards.)
When the War of 1812 began,  Edwards's first attempt to settle the island failed. Once the war ended, however, Ashcel "Shell" Johnson, an Edwards family employee, spent three years as a steward on the island. Scholars can't confirm much about this time, but they do know that the next major settlers (Henry and Sally Hyde) arrived in 1818. (The census records show that Henry was born in Vermont, but historians can't confirm much else.)
Pierpont's son and heir to the island, Alfred Pierrepont (A.P.) Edwards, visited South Bass a few years later in 1822. During his stay, he was shocked to discover a squatter living on Put-in-Bay. This French-Canadian trapper, Ben Napier, was living in a red, cedar cabin along the shore, and he challenged Edwards's claim to the island.
At a courthouse in Norwalk later that year, a judge ruled that Napier had no rights to the land. Napier then left Put-in-Bay, never to return. Edwards was now able to develop Put-in-Bay without any trouble.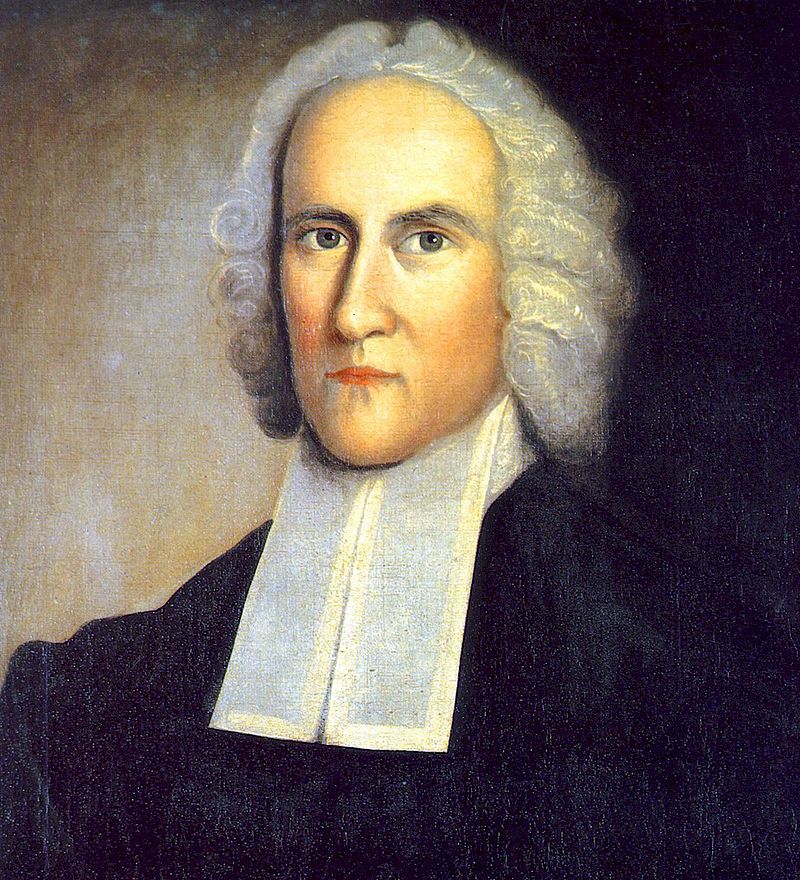 A.P. Edwards Builds a House on South Bass Island
With his land free from squatters, Edwards hired multiple agents to manage construction on Put-in-Bay. One of the first buildings laborers erected was a summer home for Edwards that was referred to as the Manor House and the White House (because of its color). The residence featured a full basement, wide verandas, two stories, and a surrounding fence. The land also held a blacksmith shop, a carpenter shop, and a massive barn. (As history progressed, this property became a rental known as the Put-in-Bay House, and the site housed different hotels over the years. You can read more about the Put-in-Bay House and Put-in-Bay After 1812 on our sister blog.)
Blossoming Commerce and Travel on Put-in-Bay
Edwards's men sold timber and limestone, so they could pay for supplies needed to develop Put-in-Bay. Laborers harvested and sold these plentiful island resources to people on the mainland.
There weren't any ships that visited Put-in-Bay on a regular schedule during these early years. So, when a boat would approach the islands, residents would fire a cannon to alert the ship captains. The vessel would stop at the island, and the workers would then communicate about supplies and trade.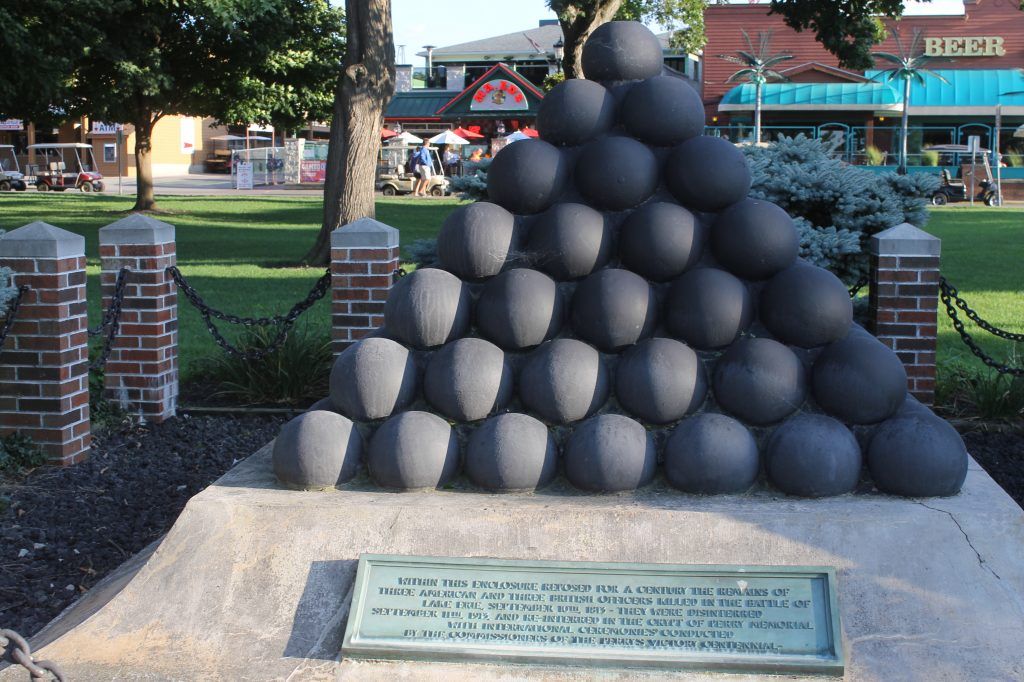 In the 1830s, men assembled the first docks on South Bass Island. In 1843, sailor Philip Vroman became the first permanent resident/settler of Put-in-Bay. At the request of A.P. Edwards, Vroman stayed on the island and worked as an agent until he died in 1911.
Workers built approximately six log cabins on Put-in-Bay by 1850. (Two other Lake Erie islands, Middle and North Bass, only featured one cabin apiece in comparison.) It wasn't long before hunters and fishermen viewed Put-in-Bay as a haven for their endeavors. A variety of fish populated the lake, and foxes, raccoons, and hogs (which had been brought over to the island in 1811) decorated the land. Physician Luther Nelson settled on the island in 1854 and brought 500 sheep with him. Slowly and surely, Put-in-Bay was becoming something "more."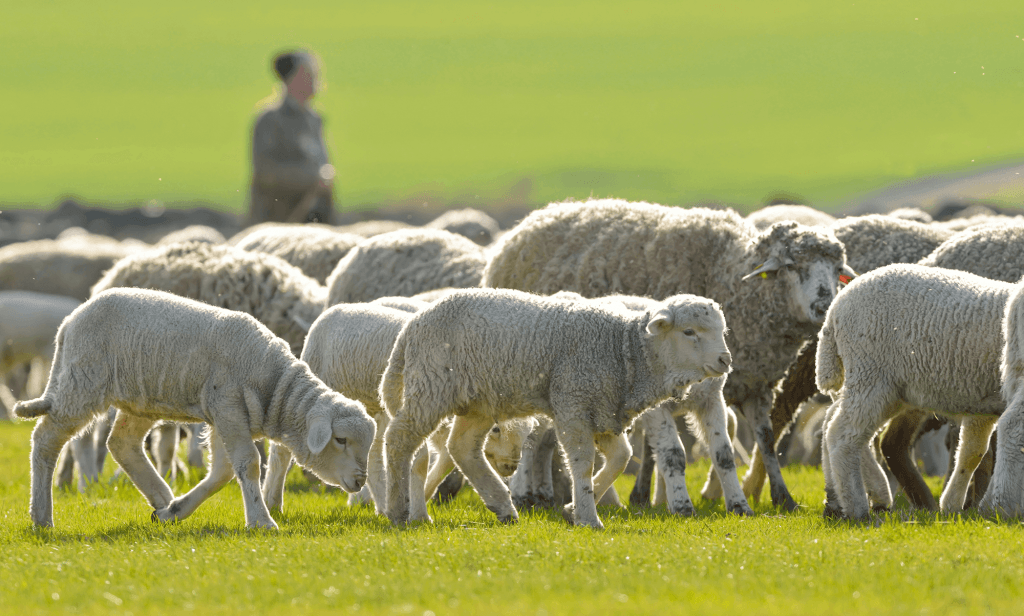 South Bass Island Receives a New Owner
A.P. Edwards thought his men had harvested most of the wood from the forest, so he grew bored with South Bass Island by the early 1850s. In 1853, Edwards gave his daughter (Alice Glover Edwards) and fiancé (Elisha Dyer Vinton) Put-in-Bay as a present for their wedding. (Edwards owned a few other islands, and he also gave Starve, Ballast, and Gibraltar to the couple.)
Vinton, Edwards's new son-in-law, viewed cash as more valuable than land. So, they all agreed to sell the islands to a Spanish merchant from New York City – Joseph de Rivera St. Jurgo. On August 22, 1854, de Rivera purchased South Bass, Middle Bass, Sugar, Gibraltar, Ballast, and Starve for $44,000.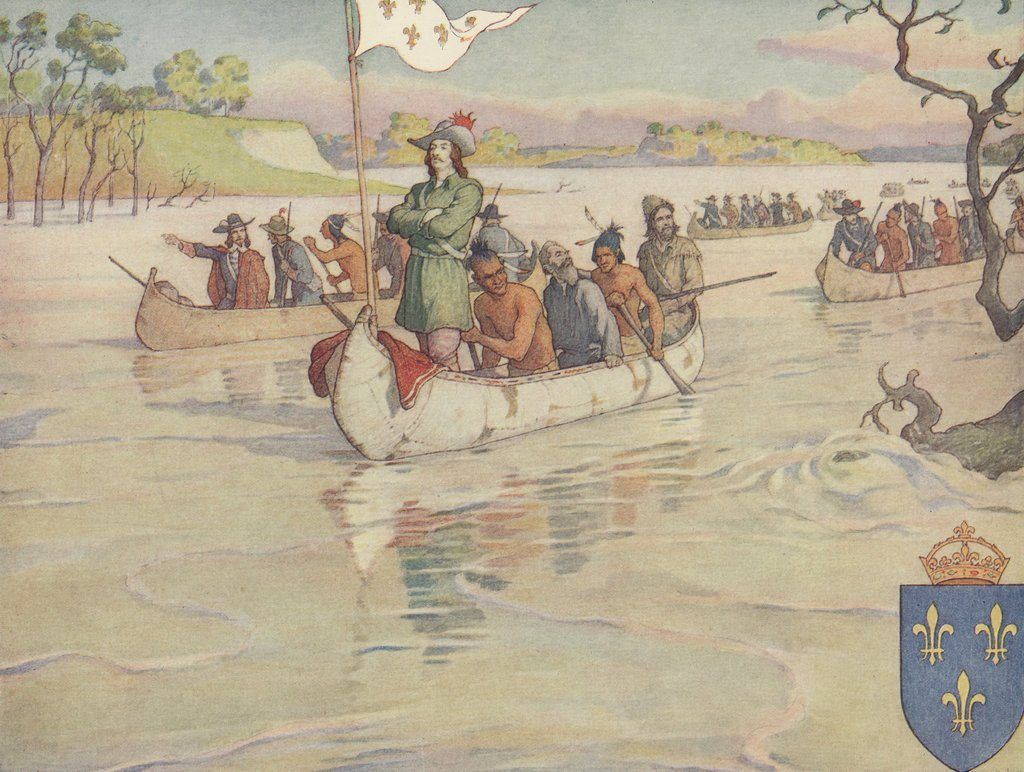 De Rivera Begins to Cultivate the Lake Erie Islands
De Rivera already owned interests in Vermont, Kentucky, and West India, so he leveraged his developer experience to establish South Bass and the other Lake Erie Islands. He built a saw mill and a stave mill (to make barrels) within two months of purchasing the islands. Next, he hired men (one of which was A.P. Edwards's former agent, Philip Vroman) to build roads on Put-in-Bay After 1812. They also began selling wood from Middle Bass to steamboat owners, who would use the timber for fuel. Ballast Island provided gravel that laborers sold to the mainland, and laborers raised over 2,000 sheep on Put-in-Bay, which were then shipped off to New York City. Yet, even with this budding commerce, the island still lacked for its most lucrative enterprise.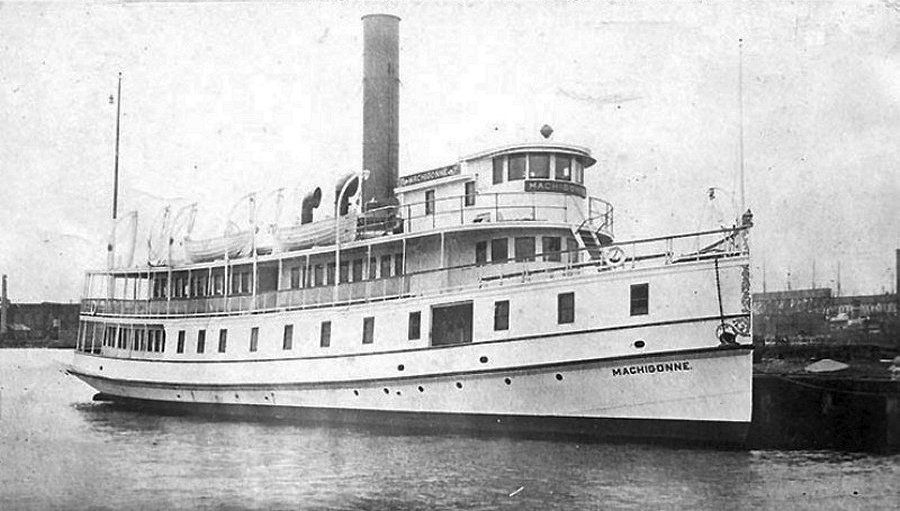 Grapes and Wine on South Bass Island
Other important figures arrived on the island while de Rivera was overseeing the development of his Put-in-Bay. These pioneers discovered what would become one of Put-in-Bay's most "fruitful" endeavors. In 1854, Karl Ruh, a German immigrant arrived on the island. A few years later, he purchased a farm, planted grape roots, and became a successful winemaker. Over the next few years, Valentine Doller, Lorenz Miller, and Mattias Burgraff, all came to the island and followed Ruh's example. Within a decade, South Bass's notoriety for its delectable grapes and delicious wines extended far beyond the Lake Erie islands.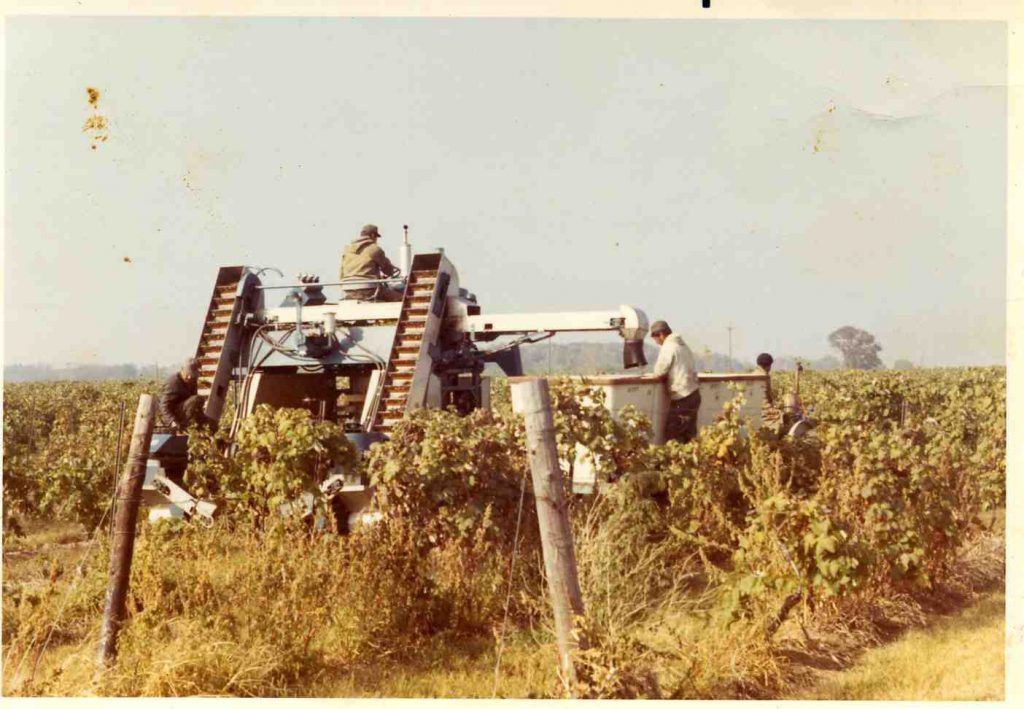 Rivera Parcels Out Land on Put-in-Bay
In the meantime, de Rivera hired Ernst Franck, the county engineer, to visit South Bass Island during the summer and parcel out land. Franck created ten-acre lots and marked out spaces for roads. Rivera's first sale was to the South Bass Board of Education. Realistically, that transaction was more like a donation because Rivera sold that plot of for $1, and the board built the first school on the hill above Catawba Avenue.
Without question, de Rivera was a generous dealer. If a buyer didn't have the funds to complete a sale, in many cases, de Rivera would lease land to the purchaser. He would also make other arrangements, like trading crops or developing payment plans. By 1865, de Rivera had sold 42 plots of land on South and Middle Bass, with some of the parcels being as large as 92 acres.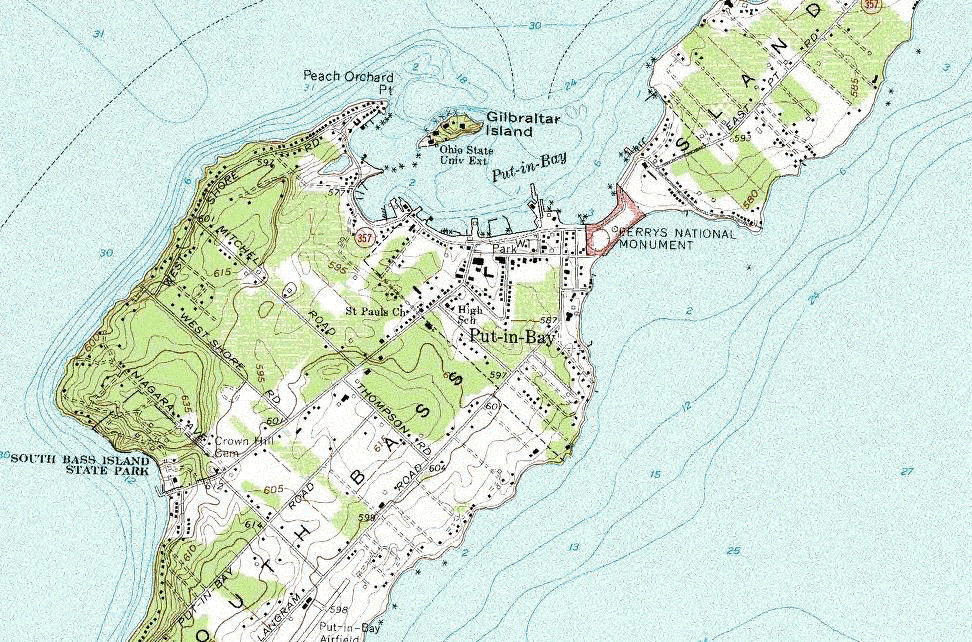 Government, Tourists, and a Thriving Civilization on South Bass Island
When settlers first began cultivating Put-in-Bay, the pioneers were focused on survival. But, as grape-growing and wine-making became popular, so did Put-in-Bay's reputation as a historical tourist destination. In the 1850s, the United States government held extravagant celebrations on South Bass to commemorate Commodore Perry's victory in the War of 1812.  As thousands of tourists visited the island, they became captivated by its beauty. South Bass became coveted as a place to go and "escape" for a few hours.
As word of mouth spread, people came to the island permanently to plant vineyards or open resorts and hotels to accommodate the visitors.  Approximately 500 people lived as permanent residents of South Bass Island by the early 1860s.
With that many people taking up permanent residence on the island, the inhabitants decided to create an official government. Officials created the Put-in-Bay Township (which included several of the other islands as well) in 1861.
By 1866, the township had grown to the point where residents owned fields of hay, wheat, oats, rye, potatoes, and clover, not to mention 422 acres of grape vines, 206 hogs, 103 horses, and 165 cattle. From that point on, residents continued to cultivate the island, and, as the old saying goes, the rest is "history."

Experience a Taste of History on Put-in-Bay
South Bass Island has a remarkable history. It's a history of progress and hope. It's a history that we're proud to endorse. So, come stay with us at the Put-in-Bay hotels, Put-in-Bay cabins, Put-in-Bay condos, and the Island Club Put-in-Bay Home Rentals and experience a taste of history on Put-in-Bay.