The Lake Erie Islands Historical Society is at the forefront of the preservation and promotion of Put-in-Bay's history, as well as that of the rest of the Lake Erie Islands. One of the best ways that the public can support the mission of the Lake Erie Islands Historical Society is by donating to or shopping at the LEIHS Museum Store and Resale Shop. You can gift lightly used items such as appliances, clothing or housewares. When these items are sold, the proceeds go directly to the Historical Society.
Goods at the LEIHS Museum Store and Resale Shop
As a potential customer, you can rest assured that all items available for sale have been inspected meticulously by the LEIHS Museum Store staff, so you can be certain of their quality. You will find some things here that you won't find anywhere else on Put-in-Bay. Additionally, you can find some of the necessities you can't go without during your stay. You'll get low prices and you can feel good about where the money from your purchase goes!
Lake Erie Islands Historical Society
You'll find the LEIHS Museum Store and Resale Shop at the Lake Erie Islands Historical Society building, which is located behind the Put-in-Bay Police Station. This is right in the heart of downtown Put-in-Bay. There is a bunch of golf cart parking available, so a visit shouldn't prove to be any inconvenience.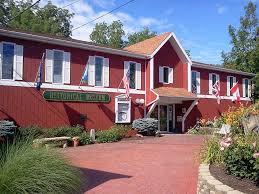 In addition to the Museum Store, you can check out the items on exhibit at the Historical Society. These rotate frequently, so if you visit the island in the spring and the fall, you're likely to find some totally different pieces of the island's history on display.
The Fascinating History of Put-in-Bay
Put-in-Bay started out as a location important to the Native Americans of the Midwest. It entered the national consciousness during the War of 1812 as the site of the critical Battle of Lake Erie. Commodore Oliver Hazard Perry's decisive victory against the British proved to be the turning point in the war. Perry's Victory and International Peace Memorial, Put-in-Bay's most famous landmark, stands in remembrance of both the battle and the ensuing and continuing peace between the United States, Canada, and the UK.
Testimonials
Matt S: "I didn't expect much. Four dollars each to get in and I thought we'd be out of there in 10 to 15 minutes. I was wrong. Tons of interesting info regarding the island and things I had no idea about. I will definitely visit again!"
Ed H: "Very informative, many island-related historical artifacts going back to the Native American era, very friendly, and helpful staff. It is definitely worthwhile. Allow an hour and do watch the video overview of the history of Put-in-Bay. Don't miss the resale shop behind it. There are many interesting things for sale to support the museum at very reasonable prices."
Bob W: "Totally fascinating place. Told the wife I was just going to check it out for an hour. Became so engrossed I had to be pulled out 2 hrs later. Will definitely be back."