Freshwater Retreat, the charming bed, and breakfast, is also home to a great hidden gem at Put-in-Bay, Freshwater Remedies. Freshwater Remedies is the place to find all-natural products on the island. The owner, Christie Onkto, has designed and created these products herself. She was born on Put-in-Bay and now splits her time between here and Maui. She's an island girl through and through.
Onkt Organics at Freshwater Remedies
Christie's goal is to use the gifts that nature gives us to produce great self-care products that are gentle on the body. Her product line is Onkt Organics, and it encompasses balms, suncare products, toners, and makeup. The original intent of these products was simply to improve the health and take better care of her family. Now she's sharing her products with the world.
The flagship product in the Onkt Organics line is Gramma's Salve. The foundation of this product is an old family recipe. Gramma's Salve speeds up the healing process for cuts and scrapes and provides relief for muscle aches.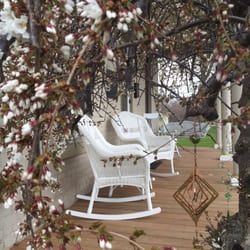 Onkt Organics skincare products include toners, serums, and cleansers. There are different blends available, some examples include Rose, Latte, and Sage. If you've been whipping around in a boat under the Lake Erie sun all day, your skin will thank you for one of Christie's famous products, Da'Balm. It's exactly what your sun-worn skin needs to recover!
Some of the other products available at Freshwater Remedies are jewelry, incense, and angel cards. This is the kind of place that you just want to spend time in, it will fill you with a warm feeling inside. You'll find it right across the street from the Put-in-Bay airport, and you should definitely find the time in your weekend for a visit to this wholesome shop! You'll leave with some great skincare products and a big smile on your face!
Testimonials
Kim A: "This was our first time to the island and the pictures were spot on. I was so excited and pleased with everything from stepping out of our car and meeting Christine to her showing us around. I could not stop saying how adorable it was. The steam/rain shower was "da bomb!" Charlie the cat was a great addition to the whole place. I know we will be back and maybe before the summer is done. Our 29th Anniversary getaway weekend was perfect from the gorgeous weather to the comfy, warm welcome at Freshwater Retreat & Remedies."
Heather K: "Christie made us feel so at home! We are heading back to the mainland with a new outlook as well as new friends. This was a truly restorative weekend for us. Comfy beds, amazing products for sale in the Shoppe, and a light organic breakfast which we really appreciated each morning. We can't wait to come back – highly recommend this B&B if you need to unplug and recharge!"
Donna D: "What a wonderful hidden gem on Put-in-Bay. My husband surprised me with a weekend getaway. Christine is such a gracious host. The house is a relaxing retreat from all the craziness on the island. The added hot tub was a wonderful way to end the evening. Charlie the house cat is such a sweet boy too."