A quick stroll outside of downtown Put-in-Bay will bring you to Bay View Gifts. It's a tiny, charming gift shop down the street from the Miller Marina. You can take an awesome look at the lake and the docks. Then head in for some great gifts to take home to family and friends.
They have everything from clothes, to decorations and even various personal and corporate gifts, to the Put-in-Bay-themed souvenirs you're looking for. All of the items in the shop are carefully chosen by Bay View's curators to ensure that you'll find unique Put-in-Bay gifts and products. Buy some gifts to take home, and one or two things just for you!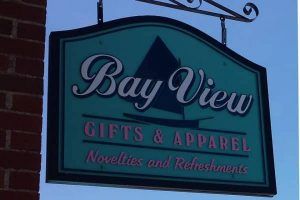 Where To Find Bay View Gifts
Just outside of downtown Put-in-Bay, on the beautiful Lake Erie banks, you'll find the Miller Marina, the Put-in-Bay Yacht Club, and Bay View Gifts.
Speaking of the Put-in-Bay Yacht Club, they offer dockage and a clubhouse that can be rented for a birthday party, family reunion, wedding, or other events. Check it out if you want to have a large gathering at Put-in-Bay!
This area has so much history. Gibraltar Island is also just across the way from Bay View gifts. Gibraltar Island was a lookout spot for Commodore Perry's forces in the Battle of Lake Erie. The home known as Cooke's Castle on Gibraltar Island is a National Historic Landmark. If you'd like to see Gibraltar Island, there is a water taxi to get across from Put-in-Bay!
So there's no shortage of things to do in the area once you're done at Bay View gifts. In fact, we haven't even scratched the surface! You'll be right next to the Put-in-Bay Winery. Stop in for a glass of wine (or two) and enjoy the beautiful Doller Estate. This Victorian-era mansion is now home to the winery, but also has a fascinating place in Put-in-Bay's past, which you can find out all about on a tour of the building. And the tour is accompanied by a wine tasting of five varieties of Put-in-Bay Winery wine, so even if you don't care much for history, you'll still have some fun!